02.11.2020
Author: Tiina Kiik
Publication: The Whole Note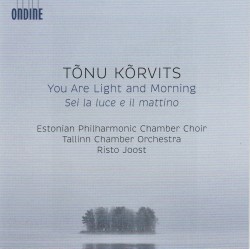 Tõnu Kõrvits – You  Are Light and Morning
Estonian Philharmonic Chamber Choir; Tallinn Chamber Orchestra; Risto Joost
Ondine ODE 1363-2 (naxosdirect.com/search/0761195136324)
Estonian composer Tõnu Kõrvits contributes a moving 60-minute work to the immense Estonian choral/orchestral repertoire with his colourful and detailed composition, You are Light and Morning (2019), performed here with compassion by the Estonian Philharmonic Chamber Choir and Tallinn Chamber Orchestra conducted by Risto Joost.
Based on the poetry of 20th-century Italian writer, Cesare Pavese (1908-1950), the cycle abounds with emotional feelings of loss, grief, love, life and nature in Kõrvits' Romantic- and Mahler-influenced tonal/atonal music. Six parts are sung in Italian and two in English. Highlights include the opening Fade In with its mysterious orchestral quiet minor chord that later reappears before the final song, enveloping the work in contemplative haunting soundscapes. The first part, Tu sei come una terra (You Are Like a Land),is accessible and modern simultaneously, as its introductory vocal motive (which recurs throughout the entire work), traditional choral colours and high string held notes with atonal touches, prepare the listener for what's coming. Pavese's poetic declaration to his love Constance is musically symbolized in To C. From C featuring full choir singing above softer walking/tiptoed pizzicato in the strings. The lush sound changes (like love sometimes) to suspenseful minor tonalities until the final vocal hum with more string plucks.
As an Estonian-Canadian, I grew up and still listen to Estonian choral music. Kõrvits' work here is so clearly his own, with the performers outdoing themselves in their interpretations.  Thank you/aitäh for this memorable music!
Vt veel: The Whole Note