22.09.2021
Author: David Truslove
Publication: Opera Today
Another coupling of Alfred Schnittke and Arvo Pärt from BIS brings together three unaccompanied choral works of the 1980s.  Two close contemporaries, their spiritual journeys coincided with the revival of Christian practices during the last decades of the Soviet Union.  Both composers sought to express their recently adopted Orthodox faith through music that evoked ancient traditions via chant and the music of the Western church.  While Schnittke's Three Sacred Hymns draws inspiration from Orthodox chant, the harmonic sound world of his Choir Concerto (the composer originally called it Concerto for Mixed Chorus) brings echoes of 19th-century Russian choral music.  The timeless quality of both can be discerned in the rigorous tintinnabuli technique employed in Pärt's Seven Magnificat-Antiphons
Under Kaspars Putniņš, the Estonian Philharmonic Chamber Choir respond to these works with customary finesse. Indeed, they've already proved their credentials with works by these composers in 2018 when they earned a prestigious Gramophone Award in the Choral Music category.  Here, in the Seven Magnificat-Antiphons, setting texts from Catholic liturgy in German, there's a marvellous sense of spaciousness, heard to impressive effect in 'O Morgenstern'.  Pärt's chaste sonorities are flawlessly delivered, though in 'O Weisheit' high and low voices are too distant.  Compare the 1996 Erato recording with the Choir's founding conductor Tõnu Kaljuste where the bass underpinning is more distinct. However, purity of tone here is irreproachable, nothing 'over-cooked' in the climatic radiance of 'O Schlüssel Davids', and its silent bars kept 'alive' by the generous acoustics of Niguliste Kirik (St Nicholas Church) in Tallinn where these performances were recorded.  There's no lack of commitment in the chant-like recitation for the drama of 'O König aller Völker' or feeling in the syncopated chords of 'O Immanuel'.  Its Advent message of hope and salvation glows with a fervour and emotional power seemingly inconceivable to anyone who looks at the bare and unpromising notes on the page, the smallest developments of which assume an epic significance.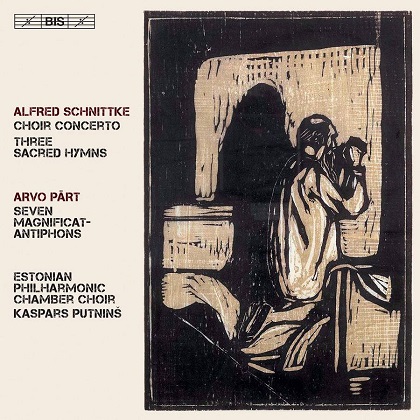 Epic might best describe the 40-minute canvas of Schnittke's four movement Choir Concerto (1984-85), a work that will test the fortitude of any professional choir, especially one like this with just 31 voices.  Conceived more like a choral symphony than a concerto (although there are passages for groups of solo voices embedded in the textures), the work sets extracts from 'The Book of Lamentations', a collection of devotional texts by the 10th-century Armenian monk Grigor Narekatsi. Schnittke's diatonic language and melodic contours repeatedly evoke the Russian choral tradition, no more evident than in the opening section.  Here, Putniņš coaxes singing of exceptional warmth and transparency, phrases lovingly shaped with richly layered chordal progressions never lacking in momentum or accumulating interest. Dynamic contrasts are well integrated, and so too the numerous transformations of sonority.
The music's horizontal trajectory is uppermost here, but without any sacrifice to either vertical alignment or striking tonal juxtapositions.  There's a sense, too, that the choir are whole heartedly dedicated to the expressions of belief in this text-laden work. Their commitment wavers in neither the sinuous contours of the second movement (where a handful of sopranos soar effortlessly above the stave to a high C) nor in the tortured chromaticisms of the third. Sumptuous harmonies that, for some, might evoke Rachmaninov's All-Night Vigil are gorgeously delivered in the candlelit intimacy of the final panel, its contemplation fully realised, the choir exhibiting impressive control and stamina in the drawn out Amens.  Expansive and ethereal, this work is every ounce a concerto for its virtuosic vocal demands.
Filling up this hour-long disc are Schnittke's Three Sacred Hymns.  Written in 1984, apparently in a single night, its three prayers, familiar as Ave Maria, the Jesus Prayer and the Lord's Prayer, each evoke Orthodox chant.  While they are demonstrably less ambitious than the Concerto, the Hymns inhabit no less sincerity of musical expression or timeless Christian certainty.  All considered, BIS has done a sterling job with the recorded sound, and these invaluable performances are on an equal footing with the best in an already crowded CD market.
David Truslove
Estonian Philharmonic Chamber Choir, Kaspars Putniņš (conductor)
Schnittke: Choir Concerto for Mixed Chorus, Three Sacred hymns; Pärt: Seven Magnificat-Antiphons
BIS-2521 [60.22]
ABOVE: Estonian Philharmonic Chamber Choir (c) Kaupo Kikkas
Vt veel: Opera Today