03.10.2019
Publication: Ulysses Platform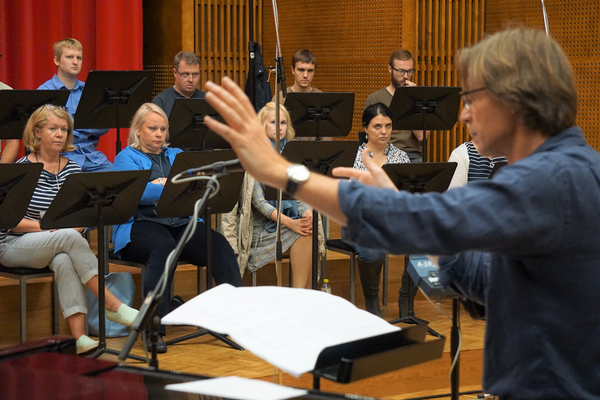 Estonian Philharmonic Chamber Choir with Kaspars Putnins. Photo: Anneli Ivaste, EPCC
The Estonian Philharmonic Chamber Choir participates in the Ulysses 2 programme with a project where three young composers write new pieces for the choir. The composers include Adrien Trybucki and Sina Fallahzadeh from France and Ülo Krigul from Estonia. The project, which is a collaboration with Ircam, has been going on since 2018 and reached now its first milestone.
On the 12th and 13th of September, all the three composers accompanied by Carlo Laurenzi, computer music designer from Ircam, met in Tallinn and presented the choir the first drafts of their work. These two days were spent in the studio of the Estonian Radio where the choir recorded some elements that would be used for generation of the electronic material for the mentioned programme and workshopped certain passages and sketches from the upcoming works.
The meeting and the experience were inspiring both to the choir and the composers. After the recording session, everything was analysed and new aims were set.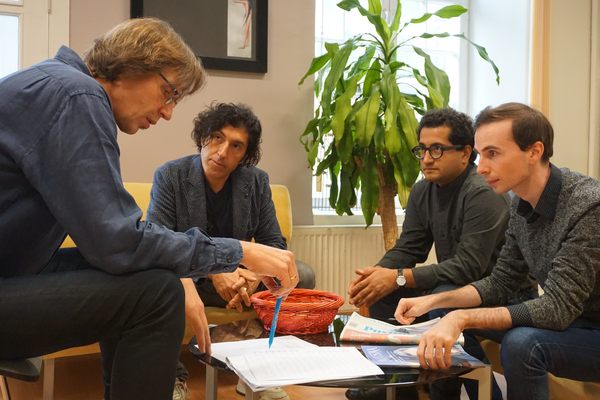 Kaspars Putnins with Carlo Laurenzi, Sina Fallahzadeh and Adrien Trybucki. Photo: Anneli Ivaste, EPCC

Carlo Laurenzi and Ülo Krigul. Photo: Anneli Ivaste, EPCC
As Kaspars Putnins, the chief conductor of the EPCC put it: "Very intense, inspiring and fruitful two days, we are very much looking forward to the next stage – three days in December when we have to move forward into realization of the new works by all three composers."
Sina Fallahzadeh said the following about his experience with EPCC: "The EPCC is one of the best choirs I've ever known. The collaboration with them is very nice. The singers have an incredible level. I am really delighted by the work of Kaspars Putnins, the artistic director and chief conductor of the EPCC. He is extraordinary both musically and humanly."
And Ülo Krigul added: "Thanks a lot for those inspiring days. Everything worked out really fine and it was nice both working together and spending time among colleagues."
Now the composers continue working on their pieces on their own and at Ircam studio in Paris with Carlo Laurenzi and the next meeting with the choir will take place in December 10-13 in Tallinn, Estonia.
The concert will take place on the 19th of May 2020 at the brand new hall of the Estonian Academy of Music and Theatre.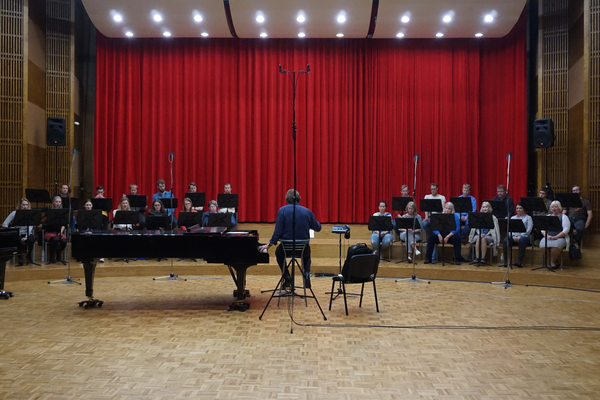 Estonian Philharmonic Chamber Choir. Photo: Anneli Ivaste, EPCC
Look more: Ulysses Platform